Posted by Abbi Swanson on 6th Oct 2021
OUR MISSION: "DO GOOD FEEL GOOD"

In the spirit of their "Do Good, Feel Good" slogan, Dr. J vows to give back to the community both locally and globally by donating a percentage of every dollar spent at Dr. J's Natural to help out those in need. Check out the ways in which the team aims to help others by donating funds, PPE equipment and more!
THE "DO GOOD FEEL GOOD" PROMISE
Founded as a nutraceutical company in 2017, Dr. J's Natural has held the same passion for giving back to the community while educating their customers about products that make a difference for your health. Dr. J's Natural vows to donate 10% of every dollar spent at Dr. J's Natural to help one of the many non-profit organizations in need of support. Some of these non-profit organizations include Kiva, Because of the Heart, the Handicapped of the Orphans Fund for children in Vietnam and American Uniformed Services Association in the US.
OUR LATEST EFFORT TO GIVE BACK
On Sunday, October 10, 2021, the 10.10 Shopping Festival will host a number of well-known companies (including Dr. J's Natural) in promoting their products via livestream. The event will feature exclusive discounts from your favorite brands while shopping for a cause! Dr. J's Natural along with their sister company, QYKSonic, will be going on livestream to talk about their amazing products, including the Dr. J's Natural emerging, innovative new product line featuring the multi-patented ingredient, PCA. Clinical compounding pharmacist, Jacqueline Nguyen (Dr. J) will share everything you need to know about this revolutionary ingredient that has been studied in the medical literature and basic science studies to provide potential health benefits and help fight microbes. Our percentage of the proceeds from the festival will be given to a charity of Dr. J's choice. St. Jude's Hospital will receive a portion of earnings from Dr. J's Natural sales. "Do Good Feel Good" is being lived out through giving back to the community and sharing well-made products that are good for your body and promote healthy living everyday!

PRODUCTS IN THE SPOTLIGHT
Dr. J's Natural Collagen Plus Stick Packs are the ultimate source of collagen that you need in your daily diet! Pour a packet into your morning smoothie or take it on-the-go and add it to your water bottle. Made with trademarked ingredients, FORTIGELⓇ, TENDOACTIVEⓇ, ALBIONⓇ & MOBILEEⓇ, Collagen Plus has been extensively researched to support cartilage, tendons, joints, skin and bones as well as promote connective tissue biosynthesis. These patented ingredients support the natural healing process and maintain the structure of connective tissues overtime.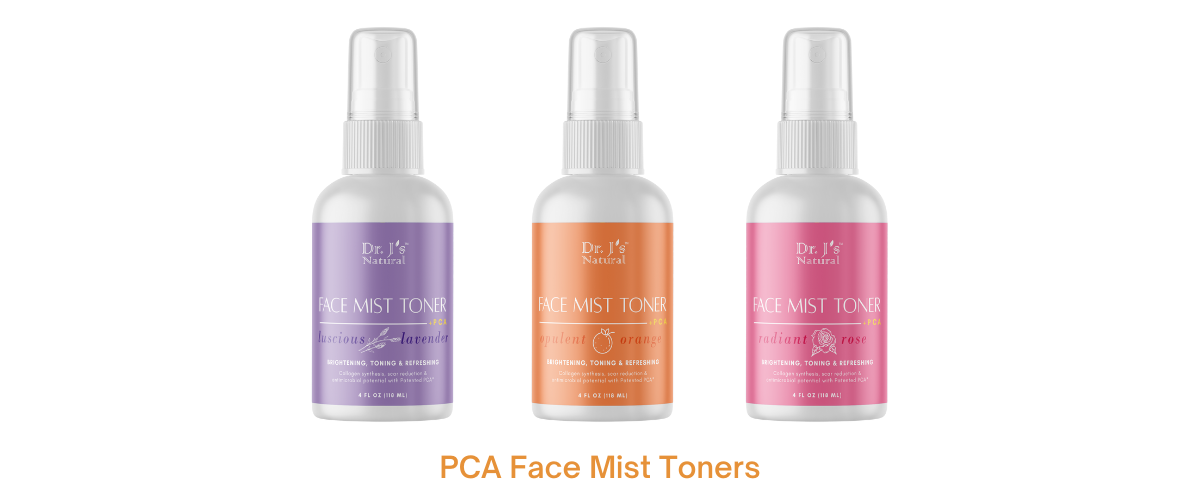 PCA Face Mist Toner is a brightening, refreshing & nourishing facial toner that can be sprayed on your face throughout the day! Made with patented PCA and other gentle, natural ingredients, PCA Face Mist Toner is formulated to promote healthy skin and brighten your complexion for a radiant, smooth feeling. Backed by 18 US patents and credible, evidence-based science, PCA has the potential to fight microbes in your environment for up to 24 hours. This PCA ingredient has also shown to promote collagen production, reduce wrinkles & scars and it contains antibacterial properties that have potential to combat acne. Give your face a quick refresh and help fight off microbes with PCA Face Mist Toner, now available with an opulent orange, radiant rose & luscious lavender scent!

Total Wellness + PCA is a universal supplement taken twice daily to maintain overall health and wellness. Each supplement is made with the unique, multi-patented ingredient called Protocatechuate (PCA), a naturally occurring reagent, found in nature and our everyday diet. PCA contains several benefits that are vital to your body's health and wellness including antioxidants and anti-inflammatory properties. Total Wellness + PCA provides your body with the vital nutrients you need for bone & skin health at the cellular level. Collagen synthesis, wound-healing & scar reduction properties have been shown in PCA laboratory studies and resulted in the granting of US Patents #9,925,152 and #9,498,413. In addition, US Patent #10,959,969 has also been granted, indicating PCA as an effective antiviral reagent to help combat COVID-19 for up to 24 hours.