Posted by Abbi Swanson on 30th Sep 2021
HOME CLEANING: TIPS + CHECKLIST

Keeping up a clean home is very important to maintain cleanliness, minimizing germs and keeping up a tidy household overall. House cleaners are not always an option so how do we know what to clean, when to clean it and how? Look no further! Here is the ultimate checklist including tips and products we absolutely LOVE to use at home!
PUT SOME MUSIC ON
It is widely believed that music can increase productivity, especially when that activity is tidying up your home. So, before you get to work, throw on an upbeat, lively playlist to immediately boost your mood. Cleaning is rarely fun, but you can make it fun with your favorite tunes blasting in the background!
START WITH A TIDY HOME
Before breaking out the cleaning wipes and scrubbing away at the kitchen counter. It is always best to pick up anything lying around that can interrupt your cleaning process. Start by doing a clean sweep of all clutter that is left around the house. Put clothes back in your closet, pick up loose papers, and place any leftover dishes into the dishwasher. This primary step can help you begin with a clean slate and efficiently clean without any distractions.
DUST
Perhaps the most common buildup of messes that builds up around the house is dust. Start with a microfiber cloth and walk through your home, wiping surfaces that are most commonly known to collect dust. Microfiber cloths are the best dusters because they are able to collect more dust and keep it on the cloth without transferring to other surfaces. While feather dusters are another dusting tool, they are more likely to just move the dust from surface to surface rather than collect and eliminate. Microfiber cloths can also be washed and reused, eliminating waste for you and your environment.
VACUUM
Whether your floors are hardwood, tile, carpet or a combination of the three, a good vacuuming throughout your home is always a great practice when home cleaning. Check your bag/compartment to make sure it isn't already full and be sure you are using the correct settings/attachments needed.
SWEEP/MOP FLOORS
It is best to begin at the farthest part of your home and make your way toward the entrance, rinsing out our mop as often as needed. Be sure to get behind tables, floor lamps, couches and any other movable objects that can often create a build up of clutter over time.
THE ULTIMATE HOME CLEANING CHECKLIST:
KITCHEN
Wipe down countertops with products that are gentle on granite, marble or any other surfaces you may have in your kitchen
Wipe down stovetop and thoroughly clean microwave (inside and out)
Wipe down sink and faucet handles
Clean the face of your kitchen appliances (dishwasher, oven, microwave, fridge)
Clean inside your refrigerator
BATHROOM
Remove hand towels, rugs, toilet paper holder, wastebasket + anything that sits on the ground
Clean inside the sink & faucet handles
Wipe mirror with glass cleaning wipe
Remove all items from the shower/bathtub
Wet shower/bathtub with warm water
Apply tile/grout cleaner and allow to sit
Scrub shower/bathtub and shower walls with grout brush and rinse with warm water
BEDROOM
Dust bedside tabletops (polish if needed)
Dust the blades of ceiling fan & light fixtures
Make your bed (change sheets/pillowcases if needed)
Wipe down any wall decor/mirrors
THE ULTIMATE HOME CLEANING KIT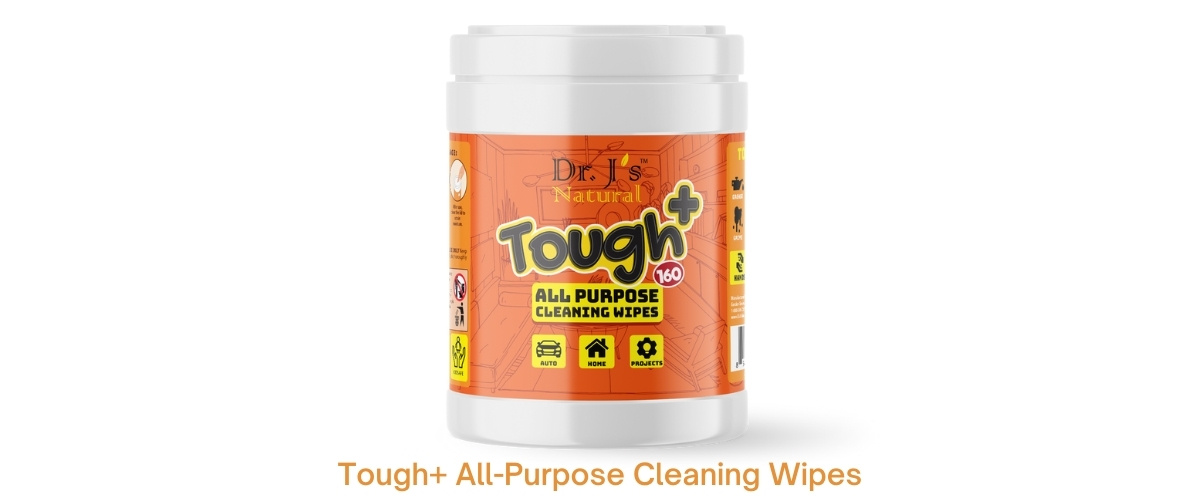 Dr. J's Natural Tough+ Cleaning Wipes are all-purpose cleaning wipes for all of your toughest messes. This all natural formula is designed to wipe away residual grease, grime, dirt, paint & more. Our wipes are kid-friendly and suitable for use around food in the kitchen so there is no need to worry about harmful chemicals around your little ones...Tough+ is safe to use for the whole family!
Dr. J's Natural Glass+ Wipes are an easy & convenient way to clean all glass surfaces around your home. This ammonia-free formula is carefully made safe for your hands, so there is no need to wear gloves when cleaning windows, mirrors & other glass surfaces. You can also use Glass+ for cleaning items around the kitchen, including glassware. Wipe away smudges, fingerprints, streaks & more with Glass+ cleaning wipes!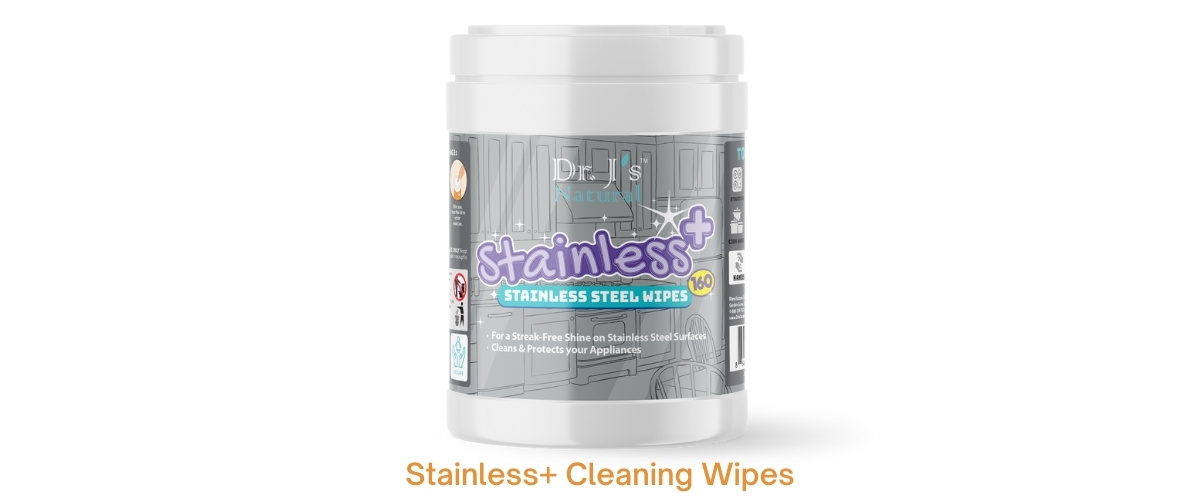 Dr. J's Natural Stainless+ Wipes are designed to effectively clean and remove smudges from all stainless steel surfaces. Made with no harsh chemicals, Stainless+ is safe to use around your kids, around food and even with your bare hands - no gloves needed. Our wipes can be used to wipe food stains, smudges, dirt & fingerprints off of all stainless steel surfaces both in and out of your home! Give your refrigerator a quick shine or wipe away stubborn, residual stains on the barbecue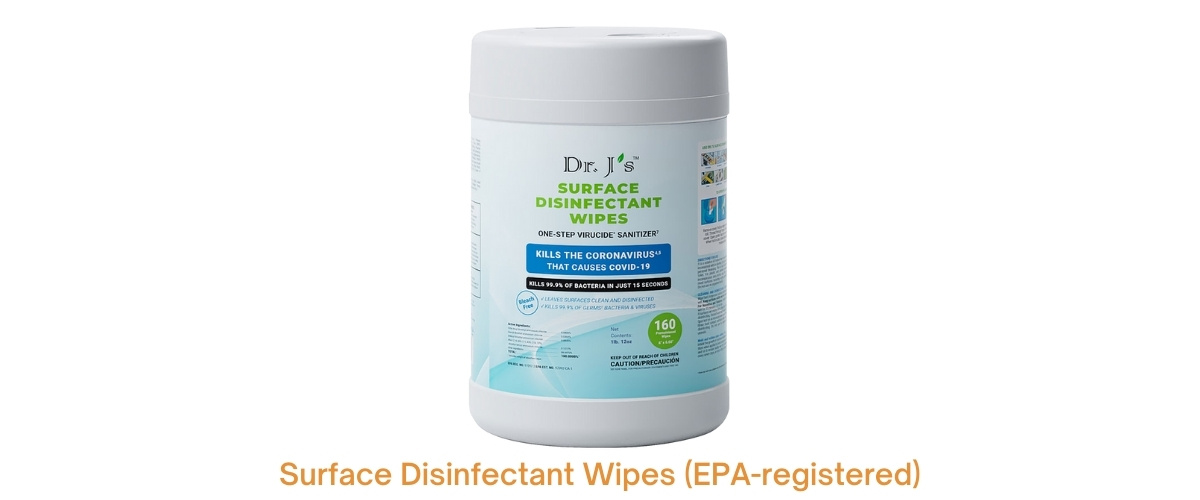 Dr. J's Surface Disinfectant Wipes are suitable for home use, hospital, industrial, and janitorial use. Quickly and thoroughly disinfect door handles, cabinet knobs, phones, computers, machines, or any surface in the home that gets touched often. Our bleach-free formula is safe to use on almost every surface. Our wipes are EPA-registered and are able to KILL THE VIRUS THAT CAUSES COVID-19 while efficiently eliminating 46 other pathogens that are difficult to kill using any other wipes such as alcohol wipes or multipurpose wipes.